Hey Guys, It's me again with your incredibly reliable weekly dev log. This week, I've started work on the chunk system, fixed shadows, and added a bit of polish to the game, i've also started keeping a changelog, which is downloaded with the launcher, alongside the game executable.
This week I began work on the chunk system, which will use a fixed size room and load/generate chunks from file, the room size has been decreased and so it loads a lot faster, I've also developed a method for making this system work, I'm hoping to have the chunk system working in the next few weeks.
I also added some more functionality to doors and they now work flawlessly, the transition times are quick and the game is really started to shape up. As you can see, I also added key cues for the doors.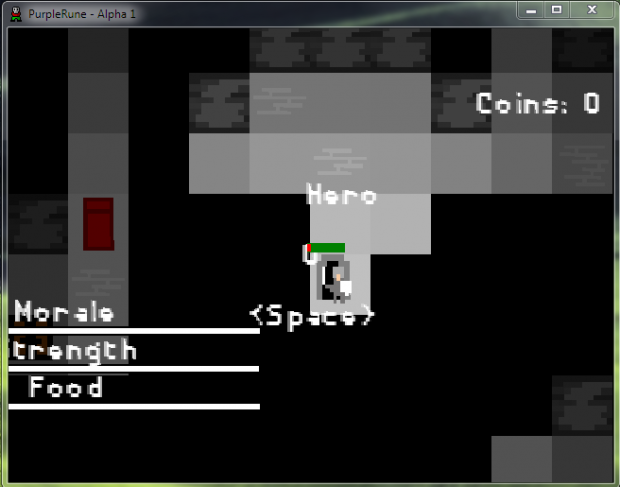 This week, my partner also put together a really cool little video displaying the current stage that PurpleRune is at. However there is a bit of a non-responsive moment at the beginning of the video, this was due to the old loading system, this is now cut down to nothing, as I'm using a new chunk method, which utilises a tiny room and lots of loading things. This means that we can generate infinite worlds, as long as you have the HDD space!
So that's just a little bit of the progress we have so far, but to see what I've done since the last dev log, here is the current changelog:
 0.3.0 Changelog
–ADDED–

-[25.03.12]Added Changelog to Launcher
-[26.03.12]Added Dungeon Doors to outside
-[26.03.12]Added Key Prompt to Dungeon Doors
-[26.03.12]Added Door Functionality

–CHANGED–

-[27.03.12]Player now keeps data when travelling
-[27.03.12]Exit door spawns in Dungeons
-[02.04.12]rm_main is smaller to handle chunk system
-[02.04.12]player stats drawn relative to screen
-[02.04.12]Alpha of shadows set by player variable

–FIXED–

-[25.03.12]Fixed Lighting System
-[25.03.12]Fixed Visible Deactivation
-[26.03.12]Fixed obj_floor object spawning
-[02.04.12]Fixed invItem visibility during generation

–BUGS–
And yes, the bugs are empty, but that's just because I haven't play tested it enough to get any proper bug reports.
Thanks for reading, and don't forget to track and comment, it really means a lot to me and helps to keep me motivated,
Jordo